Ways to increase Xiaomi phone speed; from virtual memory to deleting excess and temporary files
You can increase the speed of your Xiaomi smartphone by taking some actions.
Thanks to the strategy of offering attractive and powerful smartphones with a more affordable price tag compared to competitors, Xiaomi has a lot of fans all over the world. However, sometimes when working with the company's proprietary user interface called MIUI, which is also used in Redmi and Poco smartphones, you may encounter a slowdown.
In this article, we intend to review the best solutions for improving the performance speed of Xiaomi smartphones. By using these methods and making minor changes, you can significantly upgrade the speed of your device.
Reasons for the slow speed of Xiaomi phones
In many cases, we notice a decrease in speed of Android smartphones shortly after purchase. In the case of Xiaomi smartphones, there are also various reasons that can slow down the device.
Among the most important reasons for the slow speed of Xiaomi phones are: filling up the storage memory, increasing the temporary files (Cache) of the applications and not automatically removing these files, installing some specific applications that are running permanently in the background of the phone, and not updating the operating system to newer versions.
Increasing the speed of Xiaomi phones
Continuing, we intend to introduce the most effective methods and tricks to increase the performance speed of Xiaomi phones. Note that these solutions are also applicable to Xiaomi subsidiaries, Poco and Redmi phones.
Blocking third-party ads
Xiaomi displays many ads throughout its user interface, including ads for default MIUI apps like Mi Security, File Manager, and Theme Store. These ads can cause delays in some of your Xiaomi phone's functions and also increase energy consumption. You can block all MIUI ads with these simple steps.
To block third party ads on Xiaomi phones, follow these steps:
Go to the Settings app on your Xiaomi phone
Tap on Connections & Sharing
Now tap on Private DNS and select the Private DNS provider hostname option
Type in the phrase dns.adguard.com in the DNS field
Tap on the Save button to save the changes
Change the speed of UI animations
Different animations in the MIUI user interface of smartphones have a very important role in their performance speed. Default settings in this section can slow down your Xiaomi device. Therefore, reducing the speed of animations or deactivating them can have a very good impact on increasing MIUI speed.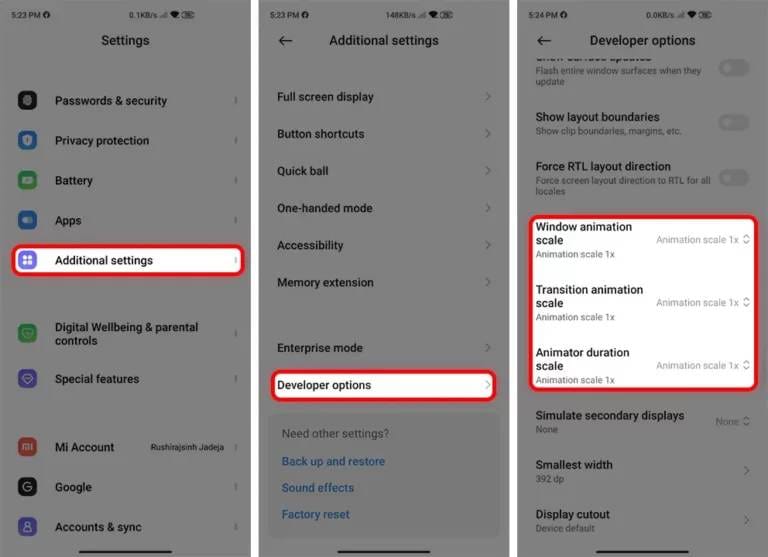 Kowsar NikoumaneshDefault settings for Xiaomi phones that you need to change!
To do this, first you need to enable Developer Mode and then follow these steps:
After enabling Developer Mode, enter the Settings app on your Xiaomi phone.
Scroll down the options and tap on Advanced Settings.
Select the Developer option now.
In this step, scroll down the page and disable the Animation window scale, Transition animation scale and Animation duration scale options.
Automatic Memory Cleanup
When working with your smartphone, running Android applications will create temporary files (Cache) and store them on the device's memory, which can slow down the phone in some cases. You do not need to delete cache files of each application manually to solve this problem, and in fact, the ability to automatically clean up hidden memory will remove these files from memory when the device is locked.
To automatically clear the cache files on your Xiaomi phone and speed up MIUI, follow these steps:
Open the Mi Security app.
Tap Battery & performace.
Tap the settings icon in the top right corner of the screen.
In this section, select the Clear cache when the device is locked option and tap Never.
Activating Virtual RAM feature
Most of the smartphones recently introduced by Xiaomi use the latest version of MIUI. This user interface has a feature called Memory Extension which uses a part of the device's storage memory as RAM.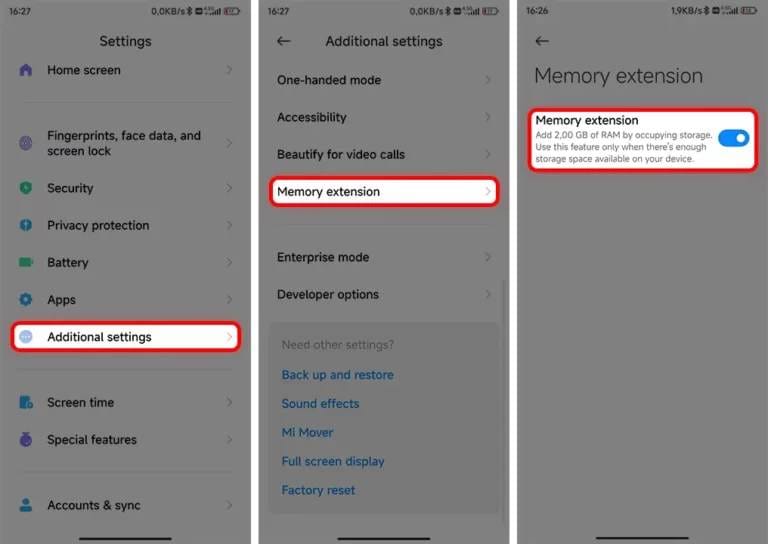 The Memory Extension feature adds between one and three gigabytes of virtual RAM on various Xiaomi devices, which can have a significant impact on improving the user interface's speed. Follow these steps to use this feature:
Go to the Settings app.
Scroll down and tap on the Additional Settings option.
Now tap on Memory Extension.
In this step, toggle the switch next to the Memory Extension option to the active mode.
Clear Cache and Other Extra Files
Sometimes, some applications face a significant slowdown and even stop working due to the lack of storage memory on Xiaomi Android smartphones. It's very easy to check which files have taken up more storage space on your Xiaomi device and delete them. To do this, follow these steps:
Go to the Settings app on your Xiaomi device.
Tap on About Device.
Tap on Storage.
You will now see how much temporary files and other files have occupied your device's storage memory in this section.
Tap on Free Up Storage to remove unnecessary and unused files.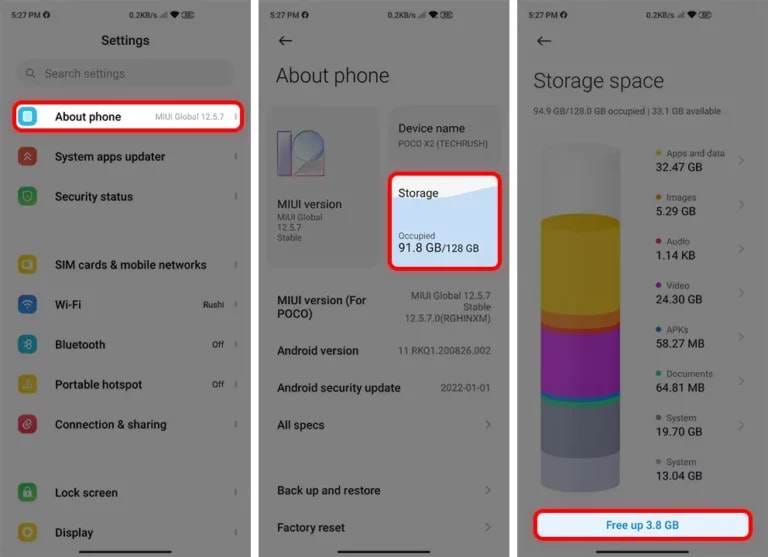 You can also free up a large part of your device's storage and speed it up by deleting video files, images, audio files, and duplicate documents. In addition, Deep Clean feature in Xiaomi phones in the Mi Security app allows you to identify and remove all unwanted and extra files.
Install the latest updates for operating systems and applications
If a new update is available for your Xiaomi phone's operating system, we recommend downloading and installing it. In many cases, monthly updates and major updates include bug fixes that help improve battery consumption and optimize storage and RAM usage, leading to increased device performance speed.
In addition, it is best to always use the latest version of installed applications on your Android phone, as application updates, like operating system updates, can generally improve RAM optimization and free up more storage space.
Conclusion
By following the steps outlined above, the MIUI user interface speed of Xiaomi phones will significantly increase, allowing you to enjoy a smoother and faster experience. These tricks help you increase the speed of Xiaomi, Redmi, and Poco phones without the need for rooting and other complicated steps.