Microsoft's advertisement has also reached Bing search results
Microsoft announces advertising programs for developers in Bing search and new advertising features of its store.
In addition to new AI-based capabilities to make Microsoft Store more user-friendly and appropriate, the company introduces several improvements focused on developers to help them attract more customers and better promote Windows programs.
Starting next month, Microsoft allows developers of Windows applications to advertise their projects on Bing search results. For example, Bing's quick search for photo editing apps on Windows displays direct links to relevant programs in the Microsoft Store with brief descriptions and reviews. The software giant encourages developers to take advantage of this new feature through store advertising campaigns to acquire more customers.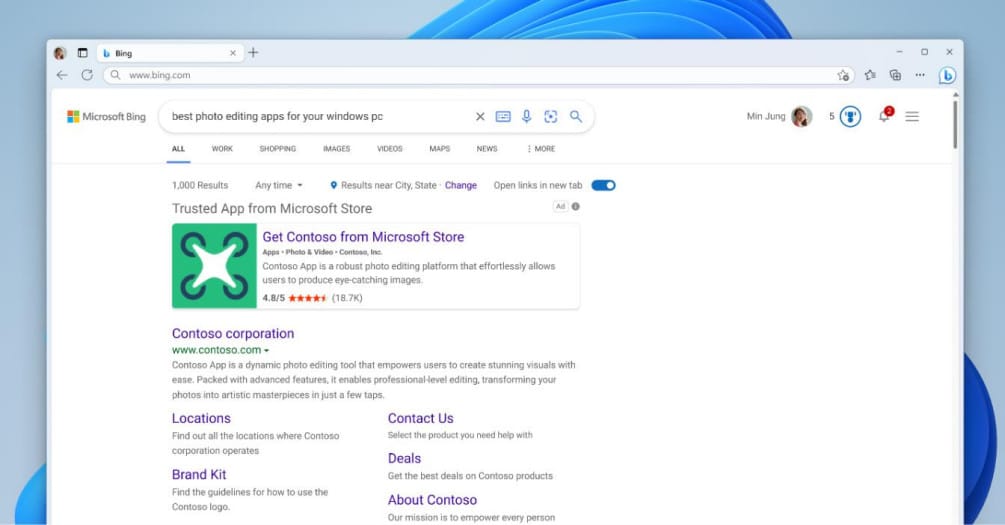 In addition to a new location for advertising, developers can leverage AI-generated keywords in Microsoft Partner Center's new feature to ensure that their projects are displayed to more customers.
Microsoft Store app will soon offer new tools for advertisers on Windows. The big company announces the launch of a test program that allows developers to display optimized and abundant advertisements on the storefront. Microsoft Store takes advantage of a new section called 'Recommended for You,' which will be a place for displaying banner ads with video and high traffic supported formats for advertisers. Microsoft is now ready to receive advertising requests.
The new advertising features in Microsoft Store Ads help developers increase installs and conversion rates using ads in search results. After receiving positive feedback, Microsoft is ready to expand the program beyond the current US market. Starting in June 2023, the Microsoft Store advertising program will be available to more developers in over 150 countries and regions.