What is the use of ChatGPT on the Opera browser and how can we use it?
Opera, by introducing a feature named Shorten, takes advantage of the ChatGPT AI to provide web page article summaries.
ChatGPT is one of the most talked-about new technologies these days. No wonder that different companies all over the world are seeking to integrate this artificial intelligence with their products and services. Microsoft is certainly a leader in this field. The technology giant from Redmond has been investing in OpenAI, which developed ChatGPT, for some time now. The maker of Windows has also launched a new AI-based version of Bing to perhaps gain a part of Google's dominance in the search engine market.
On the other hand, Google has not been idle and has introduced a chatbot called Bard. A few days ago, there was also news that Opera browser intends to use ChatGPT, and now in this article, we will explain how to use this AI on the mentioned browser.
Of course, Opera's goal is not to provide the full version of ChatGPT on its browser, but it has developed one of the first solutions for integrating the mentioned technology with the web browser.
You can use ChatGPT directly by creating a free OpenAI account. In fact, there is no need to download and install the program to do this, and you can access this AI through the web version.
What is the function of ChatGPT in Opera?
Opera announced that, in the first stage, it intends to use the ChatGPT AI to summarize web page articles.
The new Opera feature, called Shorten, is available to users with an icon on the right side of the address bar. If you click on this icon, ChatGPT will appear in the sidebar and provide a summary of the web page you are visiting. According to Opera's deputy marketing director, this feature will soon be released from the experimental mode and will be available to the public.
Opera is also working on other AI-based features that improve the experience of using this browser, but no details have been provided about these features so far.
How to use ChatGPT in the Opera browser
Opera has explained the functioning of the new ChatGPT feature in a blog post. Users can activate this feature by clicking on the Shorten button on the right side of the address bar. If you are using ChatGPT, a summary of the page or article you are browsing will be displayed in the left sidebar. Additionally, users can directly access ChatGPT through the sidebar.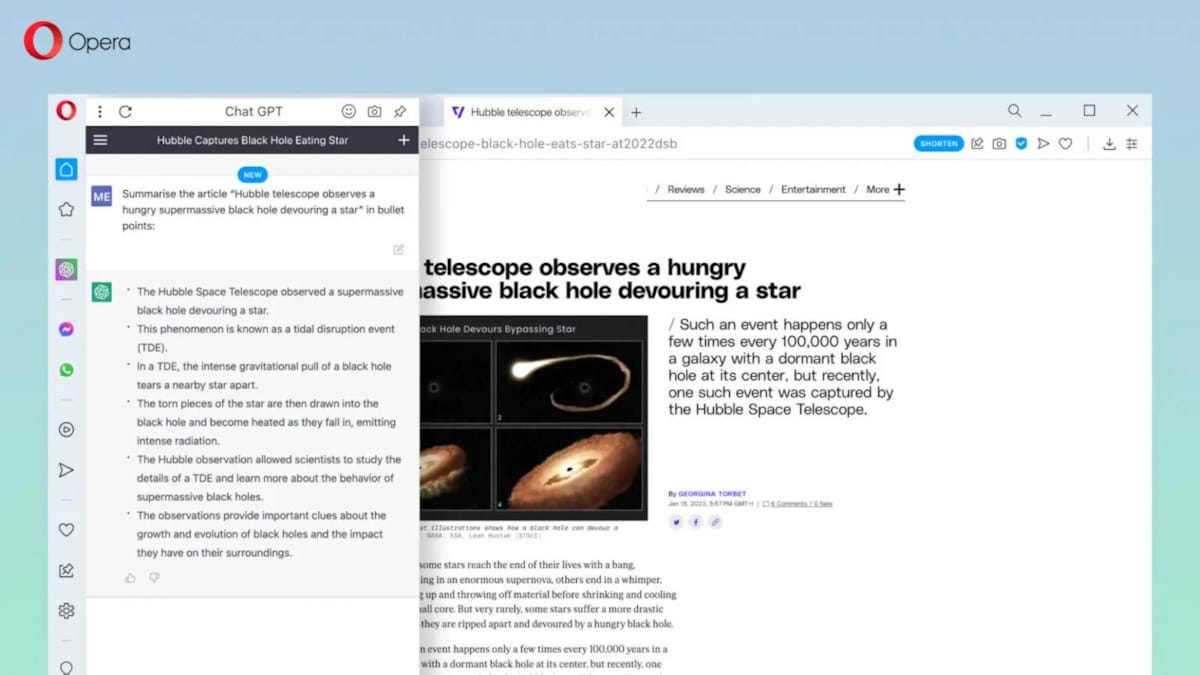 As Trendblog points out, unfortunately the Shorten feature is not yet available to all Opera users. John Standal, deputy marketing and communications, says ChatGPT will soon be available on most web browsers and its AI-based features can provide a more enjoyable browsing experience, and the company is also pursuing such a goal.
Opera intends to add popular AI-based content production services to the sidebar in addition to the Shorten feature. Users who have downloaded Opera beta or developer versions can access these new features before others.
AI Prompt feature
Opera has equipped its browser sidebar with new ChatGPT-based tools and introduced other features called Smart Notifications. To use these new features, you must update your browser to the latest version and then go to the Easy Setup section and enable the AI Prompt option in the bottom section.
After turning on the AI Prompt option in the Opera browser, buttons will be available for the user to use artificial intelligence chat features. Note that to use these features, you must log into your Opera account. Additionally, you can launch the AI chatbot using new text notifications; a feature displayed when selecting available text on websites.
AI Prompt feature offers various solutions for using AI chatbots while browsing websites. For example, this tool can be used to summarize texts or create questions based on the information available on websites.
Opera, with access to OpenAI APIs and collaboration with this startup, will provide advanced AI models in its browser. With this collaboration, the mentioned browser can modify future versions for desktops and smartphones according to the future needs of the web. Consequently, Opera users can have access to all AI-based features.